Well, really I won't be writing about the latest in just one post. But it's been a while, and I'll just really quick explain why.
First and foremost my dad and step mom came to visit us. We just took them to the airport yesterday and said our "see you later" to them. It was so hard. It's always so hard. I miss my family. I miss having them around. Oh why, do they have to be so far away? But we had a ton of fun with them. We had a lot of laughs, lot of wine and beer and a lot of good talks. So different from when they were here a year ago when Noah passed away. A year ago I was walking around in a fog. Couldn't see what was right in front of me...didn't even care. This year our visit with them was so much clearer. I think it was good therapy for all of us.
With them coming in town, we wanted to get our house looking good. We did a lot of week many weekends before they would come. We redid our roof on the back of the house (due to a stubborn leak), and we redid our back deck. It's looking amazing (in our opinion). We wanted a "Colorado" feel to it and I think we got it. I'll share pics later.
Another thing I've been extremely occupied was the preparation for Dwayne's surprise 40th birthday party. He turned 41 in June, but I had planned a 40th birthday celebration for him last year. I thought it would be so perfect. Noah would be home from the hospital, I would still be on maternity leave and we could just celebrate. Well, as you know plans change and ours did too. It changed from it will be a surprise 40th birthday celebration (a little late) combined with a welcome home party for Noah. Well, it changed again. Nothing happened. No celebration. No party. It just turned into a big shit sandwich!!
This year was gonna be different. I wanted to celebrate Dwayne. He works so darn hard for his family. For us. He still managed to work when our youngest son was fighting for his life in the hospital. I don't think I'll ever get over the sadness that Dwayne wasn't able to commit himself 150% to be with Noah when he wanted to be there. That makes me sad.
So I planned a 40th birthday surprise a year late! It turned out amazing. He had no clue whatsoever!
I planned it for 7/7. That day is a very special day to us. That's Noah's date of death. It would be a hard day. We knew that. It was actually hard leading up to that day. We knew we needed to be surrounded with love on that day. My dad and step mom would be with us on that day too. When I mentioned to them having the party for Dwayne on that day they were totally game. They were actually thrilled that they could come and help out and be part of the celebration. My family can never be a part of any celebration, so it was very special to have them with us.
I had one of Dwayne's friends help me. I needed to get Dwayne out of the house, because I wanted to have the party outside. His friend planned a bike ride for several guys. It was easy to get him out of the house. Another friend picked him up. He knew all about the party so he made sure to keep him away from the house until the guests had arrived.
Since Dwayne is a bikerider, I had been researching his cake for quite some time. I found a cool idea on the internet to add a road to the cake. I created a bikerider and bike out of fondant.
I got a little frustrated while making the cake and it didn't help that I was stressed to make sure it got done in time before the guests would arrive.
Here's the final result of the bicycle rider with his bike.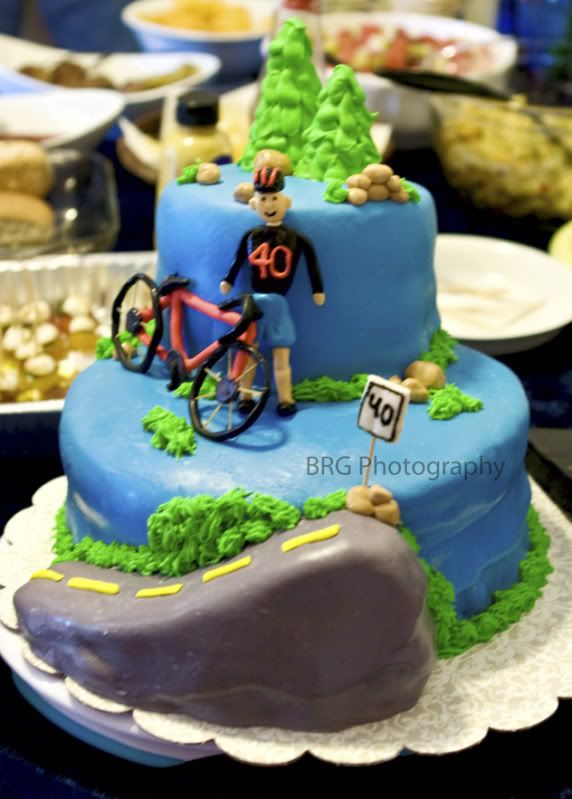 The cake was made out of chocolate cake. It had cool whip with melted chocolate in between the layers (we love chocolate in this house). Everything was edible on this cake. Mostly everything was fondant on the outside except for the spokes on the bicycle. Those were spaghetti.
Then there was the decoration. I wanted it to be manly. I picked yellow and black for the colors. We hung balloons on a string around the backyard. It looked so cool. Unfortunately the temps were above 100, so a lot of the balloons had popped from the heat. Such a bummer. And I think I mentioned my disappointment a lot that night. I made table runners out of burlap. I bought mason jars for candle holders. Added some marbles in the bottom, added water and a heart shaped floating candle. (It just had to be hearts for Noah). And tied a little straw ribbon around the top.

Then there was the food. The cake was in place. Since I had been watching the weather forecast I knew it was gonna be hot. I wanted something cooling.
So I found this great receipe from
Frugal Girls
: The cheesecake frozen yogurt pops were delicious. I changed up the receipe a little bit. Instead of making it strictly cherry, I added a mixture of frozen fruits instead of frozen cherries. My bag had pineapple, strawberries, peach and mango in it. And instead of cherry juice I just bought a fruit punch juice.
My stepmom made some delicious meat balls. We also served hot dogs, chips, fruit salad, pasta salad and I wanted some kind of potato dish. Instead I found a receipe on pinterest for some tasty zucchini bites.
They compared them to tater tots, just healthier.
Here
is the receipe. The only diffence I did was to use plain bread crumbs since that's what I had on hand. I heard they were really good too. I never tried them since everyone seemed to wanting to eat them, so I left them for the guests instead. I'm planning on making them soon again, since they could be great for the freezer and an easy help for dinner one night when working.
Also my mother in law made Dwayne's favorite. Little cheese cakes. My good friend, Chrissy also brought an appetizer. Yum!
I just never took many pictures from the party. Must have the good tasting wine and beer that distracted me :-) But here's a picture of the food table with not too many leftovers (yay)!
We had about 30 guests including us. I was so thankful to all who could come out to help celebrate Dwayne. Also a big thanks to the guys who kept Dwayne occupied before the party. I think this 40th birthday celebration was pretty spectacular! And I think the birthday "boy" thought the same thing.