When your child is admitted to St. Louis Children's hospital, you receive a lot of really thoughtfull gifts. Noah has received several knitted blankets given by volunteers, a pillow made by a local school, tons of information and reading material and last but not least Noah got a gift from the company "Build a bear". Build a bear gives donations to the CICU (cardiac intensive care unit) at St. Louis Children's hospital. One of our "welcome" gifts from them had a gift card to their store and there was also two silk hearts. One heart we kept close to us and the other heart you put inside a plexiglass box outside the entrance to the CICU. We wrote Noah's name on it. Dwayne and I both gave it lots of love and kisses, wished for healing for our son and dropped it in the box. While Noah was still in the hospital I would stop now and then to see if I could still spot his heart. A lot of times I could even though it got burried more and more due to more hearts joining the ones already there.
When we went back to the CICU for the first time since Noah passed away back in December I looked for his little heart, but I couldn't see it anymore. I really wish I had taken a picture of the box. But I must say my mind didn't think that clearly when Noah was in the hospital and there are a lot of things I wished I had done, but I didn't.
Like I said besides the little silk hearts Noah also got a gift card. We told Lucas that when Noah got discharged all four of us would go to Build a bear and Lucas should help Noah pick out a bear.
As we know, as with so many of our plans (and dreams) that included Noah, it went down the drain.
But on a cold day earlier this year, we finally went to Build a bear. We told Lucas to pick out something he thought Noah also would like and the bear was a gift from Noah. It was a bittersweet day. Noah should have been right there with us chewing on his little fingers watching his big brother with excitement.
Lucas picked out the cutest little puppy. That puppy hasn't left his side. It sleeps with him every night.
Lucas trying to make a decision. So many choices.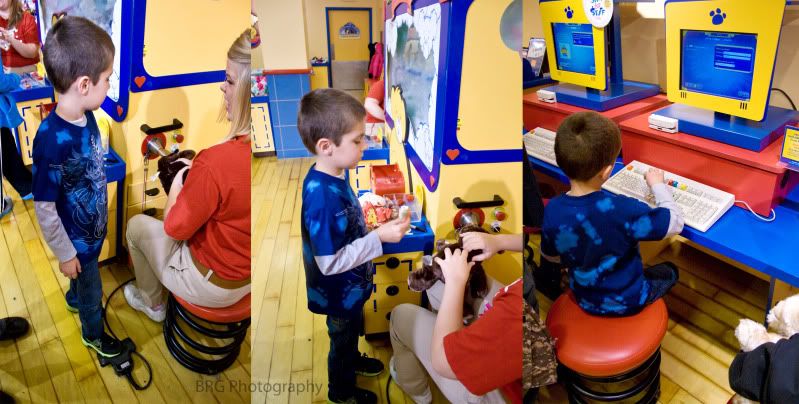 This is when the little puppy comes to life. Lucas is helping stuff the dog.
Afterwards Lucas was given a little red silk heart identical to the ones we got in the hospital. Lucas was told by the lady to rub it on his forehead, nose and give it a kiss and it was put inside the dog.
Afterwards he picked out a cute little hooded sweater (forgive me for not getting a final picture of the puppy.) Finally Lucas filled out Fluffy's birth certificate :-)
Fluffy is ready to come home with us.