Today is May 7th 2012. Today it's ten months ago that I held my child alive for the last time. Today is ten months ago when we told him it was ok to let go.
I can't believe that I'm typing this!! You never think bad stuff will happen to you..it usually happens to your neighbor. I just can't believe that "my son is dead" would ever cross my lips, but now it has become normal for me to say. So surreal.
Every month on the 7th I think of Noah. (Well, I think of him every second of every day), but more so on the seventh. And it's become especially harder with the one year mark sneaking up on me.
I still remember the day as clearly as yesterday, but then again it seems like so many moons ago.
It
aches
psycially hurts to think back on that day. I'll never forget the last time Noah was layed in my arms. He was placed in my arms to die. Dwayne kneeled down in front of me and he slid his arms underneath him too. We both held him together. I sang to him, his favorite good night song, that I sang to him every day. I sang it if he got upset, if I wanted to tell him I loved him and when I left for the day. We prayed, we cried, we kissed him, rubbed noses, gave him gentle squeezes and told him over and over how much we loved him, how proud we were of him and lastly that it was ok to let go, and that we would love him the rest of our lives, he would ALWAYS and forever be our son, and we would never forget him. And repeat... until the doctor ever so quietly came in the room and declared him dead at 6:21 pm.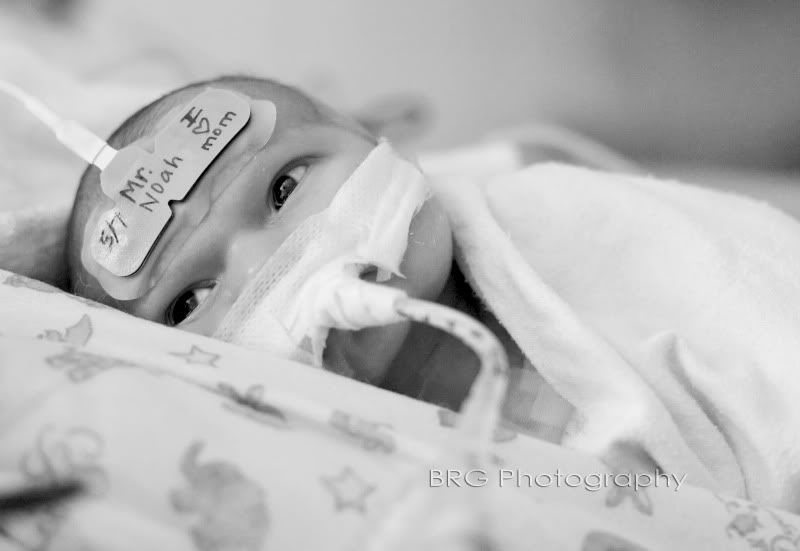 This picture is taking a year ago today of Noah. It's one of our favorites pictures we have of him. You can't see much of him except his eyes. And what beautiful eyes they are. I loved having eye contact with him while loving on him. This picture was taken one week after his surgery. We were still so full of hope, that he would be alright, and he was just moving in his own pace towards recovery.
The nurse had written I <3 mom because of Mother's Day. My first Mother's day as a mommy of two. It was so special and I'll never forget it. It's tucked away in my heart with so many beautiful memories.
Ok.. time to wipe away the tears and put on a smile for my Mr. Noah.